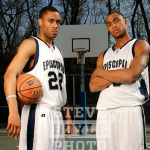 On November 9, 2014, Wayne Ellington Sr., 57, was found dead in the driver's seat of his 2001 Oldsmobile on the 5200 block of Marion Street in the Germantown section of Philadelphia. Almost three hours later he was declared dead. According to news reports, the man charged with Ellington Sr.'s murder is Carl White, a 34-year old Philly resident.
No motive has been declared, but White is reportedly another suspect in a shooting and robbery investigation.  Sources also say that Ellington Sr. was approached by White on Marion Street the day he was murdered and reportedly exchanged words. However, authorities do not know what was said.
Wayne Ellington, Jr. is a Philly native currently playing for the Los Angeles Lakers of the NBA. Before joining the North Carolina Tar Heels, Ellington, alongside current NBA player Gerald Henderson, Jr., lead Episcopal Academy to one of the best seasons this city has ever seen.
Us here at PhillyRap send our thoughts and prayers out to the Ellington family for their loss.