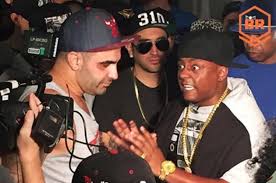 As discussed in our previous article, the battle between Cassidy and Dizaster was cancelled after one round on Saturday. The rescheduled rap battle between the Philly Rapper and the LA Battle Rapper took place on Sunday and Cassidy earned an astounding victory.
Unlike the first rap battle, which took place in front of tons of people in a theatre-like venue, the rematch occurred in what appeared to be a parking garage. Cassidy brought his Philly crew with him, and Dizaster had some of his crew as well, but other than that there were not many spectators in attendance.
In round one, Cassidy came out firing with punch line after punch line. In my opinion, this was his best round. He even imitated Dizaster's style to perfection for a minute or so, which received a lot of applause from the crowd – and even Dizaster himself.
Cassidy's second two rounds were good, but not as good as the first. But, even in the second two rounds, Cassidy did what he does – hit him with complex wordplay and punchlines.
Most importantly, Cass had great stage presence. He took over, had better crowd control, and this helped him win the rap battle. But Cassidy having a great stage presence is to be expected – he is a professional and has spent a lot of time on stage.
Dizaster was disappointing. I listened to some of his battles before the Cassidy battle, including when he destroyed rapper Canibus, and believe that he had an off night. But I also think he had a poor approach.
He spent a lot of time talking about how he got information from Philly Rapper AR-AB, a former close friend of Cassidy's, and he heard Cass is a fake. But this just sounded corney and he brought it up too much. In battles, "I heard this" references aren't very effective because nobody can corroborate them.
He also tried to call Cassidy a fake. Cass has been battling since before facebook and other social media was available. For example when the Cassidy vs Freeway battle first hit the streets, I bought it on VHS. Yes, VHS. So it's understandable that there is no video proof. But other rappers, such as Swizz Beatz, has confirmed that Cassidy was put through tons of battles when he was a member of Ruff Ryderz Records. And, again he focused on this way too much.
Dizaster should have focused on what people came to see – hot lyricism. And he is capable of this, but for some reason chose to go another route.
His delivery was poor too. Honestly, I think Cassidy shook him. Dizaster has a lot of respect in the battle rap world and most battle rap followers expected him to beat Cassidy with ease. Once Cassidy spit in round one, I believe Dizaster realized this battle could be a career-ruiner, not a career-maker as he anticipated.
All in all, Cassidy just outclassed Dizaster in Sunday's battle. He was on a different level than Dizaster and it was obvious.
But Cass is an MC and a battle rapper. Many battle rappers are not MCs – they can battle but lack the musical talent to achieve recognition for their music. Cassidy is very skilled at both.
Us here at PhillyRap are happy to see that Cass held it down for Philly and the Philly Hip Hop community. Cassidy proved why he has long been regarded as one of the fiercest and most talented MCs on the planet.
The full battle can be watched below: