Cal Akbar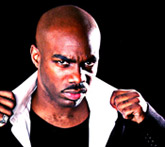 Cal Akbar is a rapper from Philly. Akbar made his debut in the hip hop world as a member of the Philly Rap Group Larsiny, featuring himself, Cassidy, and Shiz Lansky. The group was signed to Ruff Ryders Records.
After the group split up, Cal Akbar and Cassidy developed a beef, with both rappers releasing diss tracks against the other.
In 2007, Cal Akbar sparked a national debate. After leaving the rap world, Akbar joined the Philadelphia Fire Department. After becoming a fire fighter, controversy arose regarding some of his rap lyrics talking about cops. Specifically, the Philadelphia Police Force was mad about a line where Cal Akbar refers to cops as "Pigs" and says he turn them into "bacon bits." This controversy made national news and Akbar was placed on administrative leave from the Philly Fire Department.