Eve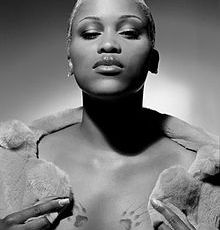 Eve, aka Ruff Ryders' First Lady, is one of the most successful rappers from Philly. Eve is very well known for the paw print tattoos on her chest. Eve started this tattoo trend, and during the height of her popularity paw print tattoos were very popular.
Growing up, Eve attended Martin Luther King High School in Philadelphia, where she joined her first singing group called EDGP.
Eve's first big break came when she appeared on the soundtrack to the movie Bulworth. At this time, she was signed to Dr. Dre's label Aftermath Entertainment. Due to her lack of promotion with Aftermath, Eve teamed up with rapper DMX and Ruff Ryders in the late 1990s.
In 1999, as part of the Ruff Ryders, Eve released her debut album, Let There Be Eve . . . Ruff Ryders' First Lady. This album was a huge success.
Eve's second album, Scorpion, was released in 2001 and was also a huge success.  The album featured the hit single "Let Me Blow Ya Mind" featuring Gwen Stefani of No Doubt, which peaked at #2 on Billboard Hot 100. The song also won a Grammy Award for Best Rap/Song Collaboration. Eve's album Scorpion eventually went platinum.
In total, Eve has sold over 15 million albums.
Eve has also collaborated with other rap artists. She was featured on the LOX's hit single "Ride or Die Chick" and on Philly Rapper Beanie Sigel's hit single "Remember Them Days."
Eve has also gained fame for her acting ability. Most notably, Eve played one of the main characters in rapper/actor Ice Cube's films Barbershop and Barbershop 2: Back in Business.