The Fresh Prince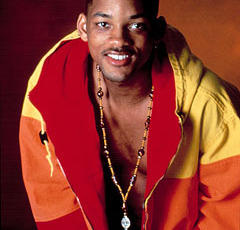 The Fresh Prince, better known as Will Smith, is one of the most famous people to ever come out of Philly. Originally breaking into the Hip Hop scene as one half of the Philly Rap group DJ Jazzy Jeff & The Fresh Prince, which managed to sell over 5.5 million records. Smith was the rap groups primary lyricist.
Will Smith also had a successful acting career. After the widely popular success of his show The Fresh Prince of Bel-Air, The Fresh Prince took his acting talents to the big screen, staring in numerous blockbuster films.
Smith also made a return to rap in the late 1990s and early 2000s, releasing hit singles such as Miami, The Men in Black, and Gettin' Jiggy With It.
Will Smith is married to his Wife, Jada Pinkett-Smith, and has two children, Jaden and Willow. In addition, The Fresh Prince is also a minority owner of the Philadelphia 76ers.
Albums by The Fresh Prince