Gillie Da Kid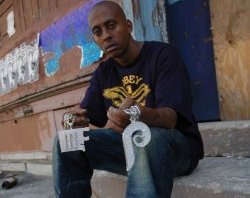 Gillie Da Kid is a legendary Rapper from North Philly. Gillie has had a successful career as both the leader of the Philly rap group The Major Figgas and as a solo artist.
In the early-to-mid 2000s, Gillie Da Kid received a record deal from Lil Wayne's record label Young Money Entertainment.  Although many thought this was the break Gillie needed, he never released a studio album as a member of Young Money.
Although he and Lil Wayne had a strong relationship for several years, after Gillie was released from Young Money, he and Lil Wayne had some beef which stemmed from their previous business relationship. According to Gillie, he served as a ghost writer for Lil Wayne, and according to him, he wrote many of the lyrics on Lil Wayne's famous The Carter albums.
Gillie is still releasing hip hop music and remains a staple of the Philly rap community.