Jakk Frost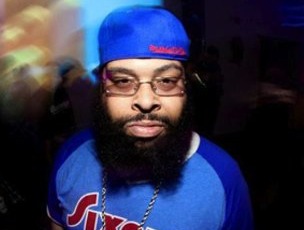 Jakk Frost, aka Frost Da Boss Man, is a legendary Philly rapper from West Philadelphia. He is well known for his unique rap style and beard.
Frost is hands down one of the best lyricists Philly has ever produced. His lyricism combined with his slick flow and delivery has propelled him to become a giant-like figure in the Philly Hip Hop community.
Jakk Frost was first noticed by the Philly Rap community with the release of the single "Philly Love" off his mix tape You Don't Know Jakk. The song was a hit, receiving radio time across the area. The song is nostalgic, reminding listeners of how great our city is and remains a very popular Philly anthem.
Frost also is associated with the Philly Rap group State Property. Although never officially a member, Jakk has appeared on numerous State Property mix tapes and on solo releases by State Property's members. Frost has an especially close relationship with Freeway. Jakk Frost also works with other Philly artists, appearing on the track "Pistolvania" on fellow Philly Rapper Vinnie Paz's 2010 album Season of the Assassin.