The Major Figgas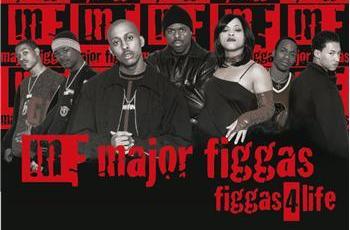 The Major Figgas are a rap group based out of Philadelphia. The group originated in the Erie Ave. section of Philly.
The Figgas started their rap careers by releasing a series of mix tapes to create buzz about the group. Then, in 2000 the rap group independently released their first studio album Figgas 4 Life. Figgas 4 Life garnered national attention for the Major Figgas, earning them a record deal with RuffNation Records/Warner Bros. Records.
With RuffNation, The Major Figgas released an expanded version of Figgas 4 Life in 2000. This revamped album reached #29 on the U.S. R&B/Hip Hop Album charts. The album's only single, "Yeah That's Us," reached #2 on the U.S. Rap Singles chart and received the 2001 ASCAP award for Song of the Year.
The Figgas have seen members come and go over the years, but the main members have always been a part of the rap group. The primary members of the Major Figgas are Gillie Da Kid, Ab Liva, Bumpy J, Dutch, Spade-O, and Bianca. Gillie Da Kid, aka "The King of Philly," has received the most national attention of anyone in the group. After being released from Cash Money Records, Gillie made national headlines over his beef with fellow Cash Money artist Lil Wayne. Gillie alleged that he wrote a majority of the Lyrics on Wayne's Carter album series.
Dutch & Spade, both as a group and as solo artists, have also made a name for themselves within the Philly Hip Hop community. Spade-O's career was derailed for a while due to a long jail bid he served.
The Major Figgas are well remembered for their beef with Philly Rap group State Property in the early 2000s.  The beef stems from the Major Figgas' negotiations with Roc-A-Fella Records, the label which State Property was signed to, over a record contract. According to reports, Roc-A-Fella records offered the Figgas a record contract which would pay the group $11,000 and a used Pontiac Bonneville.
The Figgas saw this offer as an insult and the beef with State Property ensued. The Major Figgas and State Property ended their beef years ago, and members from the two groups have collaborated on several occasions to release some outstanding music.
Albums by The Major Figgas