Ram Squad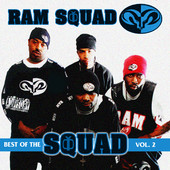 Ram Squad is a rap group from North Philly. The group is composed of Boy Backs, Tommy Hill, Six 9, and Suave. The group's members are all friends who grew up together in the Richard Allen Project. The group launched their career with the help of Philly mob boss Joey Merlino.
Ram Squad gained local attention in the late 1990s by releasing independent records. During that time, the group's music became widely popular throughout Philly. In 2000, Ram Squad released their first album to receive praise nationwide, entitled R.andom A.ccess M.oney.
In late 2011, Ram Squad member Tommy Hill was shot dead in a robbery outside an East Mounty Airy bar. Others speculate that Hill was murdered due to his cooperation with law enforcement.