Young Gunz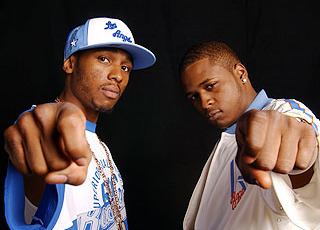 The Young Gunz is a Hip Hop group from Philly, comprised of Young Chris and Neef Buck. The group was signed to Roc-A-Fella Records and was a member of the Philly rap group State Property.
The Young Gunz produced studio albums as a member of Roc-A-Fella Records: Tough Luv (2004) and Brothers from Another (2005). In addition, the State Property album The Chain Gang Volume 2 featured the Young Gunz's hit single "Can't Stop, Won't Stop" which reached the top ten on the US Billboard charts.
The Young Gunz are also known for their beef with West Coast rapper The Game. This beef occurred in the mid-2000s and was the result of The Game's beef with fellow Roc-A-Fella artist Memphis Bleek. On The Game's famous dis-track "300 Bars and Runnin" The Game specifically calls out the Young Gunz.