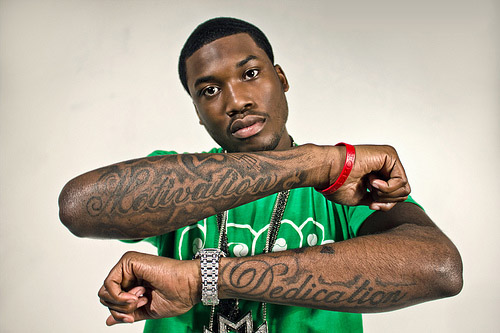 Two days ago Meek Mill finished serving his time and he was released from prison.  Meek Mill's bid began in July 2014 when he was sentenced to 3-6 months for a probation violation. Meek was released on parole and is required to undergo treatment programs and complete community service. Until Meek completes the community service and treatment programs, he is not permitted to leave the Philly area. Therefore the conditions of his release prevent him from capitalizing on his talent and hard work.
We here at PhillyRap are happy to see Meek finally getting to go home. The justice system has not been kind to Meek Mill in recent times. Not only was he locked up in July, but he also lost a civil rights lawsuit against the Philadelphia Police Department in May 2014.  In that lawsuit, Meek alleged that in October 2012 he and three friends, all black males, were pulled over and had their rights violated by the authorities. The cop, as they normally do, said the stop was justified because the Rang Rover's tinted windows were too dark. Then, the cop allegedly "smelled some marijuana" justifying his search of Mill's vehicle, but only after they brought the drug sniffing dogs in to take a whiff first. Nothing illegal was found but Meek Mill and his friends were detained and cuffed for hours. Mill then hired an attorney and brought a civil rights lawsuit. See our article on that case here.
It is great that Meek got out. He is the biggest name out of Philly in Hip Hop right now. His success means a lot to Philly and other aspiring rappers in our city. But it is sad that the justice system is preventing him from leaving the Philly area.
Meek is hot right now. He surely has offers to tour all over the country. He could make enough money touring that he could never work again if he wanted. But, no. The court prevented him from cashing in at a point in his life that may never come again.
Hey, I've been listening to rap for a long time and if one thing is for sure it's that rappers only stay so hot for so long. Look at where Young Jeezy was 5 years ago compared to today. Or where Cassidy was when "I'm a Hustler" came out.
The point is that no matter your skill, you don't stay as hot as Meek is for long before it fades (unless you're Jay-Z). And it is almost downright criminal that he is being prevented from cashing in on an opportunity that very, very few people even come close to obtaining. He has worked so hard to get to where he is, and he should be allowed to get paid.