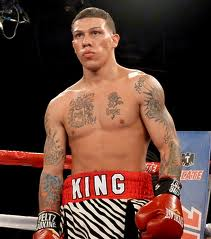 HBO Boxing After Dark on Saturday December 6, 2014, featured two fighters from Philly.  Long known as the "Fighting City of Philadelphia" we have great pride in the fighters this city has produced. From Smoking Joe Frazier to the fighters of today, Philly continues to be one of the greatest boxing cities in the world.
The first fight of the night featured Philly boxing veteran Hank Lundy (25-3-1) took on up-and-comer Thomas Dulorme (21-1) in a ten round bout.
In the first few rounds, Lundy looked like he was still trying to figure Dulorme out. Dulorme even knocked Lundy down in the first round. However, starting in the sixth round, Lundy came out swinging, bringing the fight to Dulorme. Once Lundy started applying the pressure, Dulorme looked lost and unsure of how to fight the Philly native. Lundy ended up dominating over the second half of the fight.
Lundy lost the fight, however, via a split decision. PhillyRap's scorecard had Lundy up by a point, however, scoring the bout 95-94. PhillyRap gave four rounds to Dulorme (1, 2, 4, and 5) and six rounds to Lundy (3, 6, 7, 8,9, and 10). Most likely, Dulorme got love from the judges due to his status as a up-and-comer.
The final bout featured Philly boxing native Gabriel Rosado against David Lemieux. Rosado is known as a true Philly boxer. He is a blood and guts type guy known to leave it all in the ring.
Lemieux is a big puncher. He can throw devastating hooks with either hand.
Rosado took a beating in the match. As I watched the fight, I was hoping that Rosado was letting Lemieux punch himself out. Unfortunately, that didn't happen. Instead, as Lemieux threw more and more punches, Rosado seemed to get more and more worn down. Simply put, it didn't look like he could take the punishment Lemieux was dishing out.
Early in the fight Rosado caught a punch to the left eye which left it severely swollen. They eye looked bad but Rosado passed every vision test during the fight.
In the tenth round the doctor stopped the fight. Unlike most stoppages, there was no moment in the fight were Rosado was unable to fight back. Instead, the doctor decided that Rosado had taken enough punishment and needed to be protected from himself.