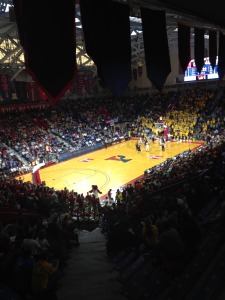 Living in Philly, it is easy to take for granite all the great tradition and historical significance this city has. This was apparent to me recently when I visited Miami – a city that doesn't have anything older than the 1900s.
Big 5 games at the Palestra are one of those traditions Philadelphians should be thankful for. On Saturday, December 6, 2014, Temple and La Salle continued that tradition. Temple earned the victory 58-57.
In the first half, Temple had a steady lead and looked like the better team. In the second half, however, La Salle really played some smart basketball. They closed Temple's lead and even took the lead themselves. However, La Salle's second half efforts were not enough to carry the day.
The game was great. Although I was rooting for Temple, I did not really care which team emerged victorious. I was just there to see some good Philly Big 5 basketball and that is what I got.
It was traditional Palestra basketball at its finest. The student sections for the two schools were excited – both hurling insults back and forth at the other team. The bands were battling too. With Temple and then La Salle's bands exchanging fight songs across the court.
There is really nothing like a Big 5 game at the Palestra. The Palestra, best known as Penn's home basketball arena and one of the most famous basketball courts in the country, is a Philly landmark. In addition to Penn and Big 5 games, the Palestra over the years has hosted some of the best high school teams and players in the nation. Indeed, when LeBron James was one of the most heralded high school players of a generation, his high school team came to play in the Palestra when they came to Philly.
Even during the recent NBA lockout when players were playing street ball games around the country, Team Melo (featuring Carmelo Anthony, LeBron James, and Chris Paul) came to the Palestra to face off against Team Philly.
Overall, Saturday's game between Temple and La Salle was everything I expected. It was traditional Big 5, Philly basketball at its finest.